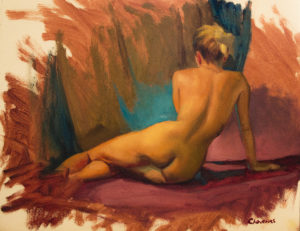 Dates and time:
Dates: May 3, 10, and 17
Time: 10-4pm
Location: Grand Valley Artists: 1695 Service rd. NE Suite 106 Grand Rapids, MI, 49505
Cost: $300 which includes the model fee. Space is limit to 6 students per class. There is a $100 dollar deposit due the week before class starts. To sign up for this workshop or to ask any questions you can contact Candice directly: candicechovanec@yahoo.com
This will be a single pose done over 3 weeks. Students will learn how to paint the figure over the course of 18 hours.
Timeline:
Day 1: Students will receive a 6 hour demonstration.
Day2: Students will paint from the model for 5 hours and receive a 1-hour critique at the end of the day.
Day 3: Students will paint from the model for 5 hours and receive a 1-hour critique at the end of the day.
Materials List
Oil paint:
Do NOT get any "hues" when buying cadmium colors. Hues have a lower color saturation. You will end up using more paint and not saving any money.
Titanium white
Nickel Titanate Yellow
Cadmium Yellow Medium
Cadmium Orange Medium
Cadmium Red Medium
Alizarin Red or Alizarin Permanent
Sap Green
Ultramarine blue
Dioxide Purple
Sennelier Brown Pink
Williamsburg Kings Blue
Brushes:
I use Blick brand brushes and they work fine. But Trekkel and Rosemary Brush Co. are both high quality brush companies. I usually try to have 2 of each brush but you can get by with one. This is an optional selection. If you have different brushes that you prefer please bring those.
Bristle

Filbert #3
Filbert #1
Flat #6
Round # 4
Flat #16
Round #12
Sable

Thick fan brush size 6 or larger
Flat #4
Flat #6

Squirrel

Blick Brand natural round #4, #6, #8
Canvas or Panel:
16 x 20 canvas or wood panel. Even if it comes already primed with gesso, you should put on 3 more layers before the start of the workshop. I apply gesso with a paint roller and do a light sanding between layers. Having a good surface from the start is essential. You will also need 1 additional 11×14 panels or canvases to work on. These should also be primed with gesso.
Palette: Glass palette with a paint saver blue and white box works great for easy travel. Please have a clean surface to work on. It needs to be free of dried paint and debri.
Solvent: Odorless mineral spirits (I prefer Gamsol) and a metal tin with a lid for cleaning brushes. NO PAINT THINNER!
Medium: Linseed oil in a small container with a lid
Palette Knife
Paper Towels (I like blue shop towels)
View finder (optional but useful)
Q-tips