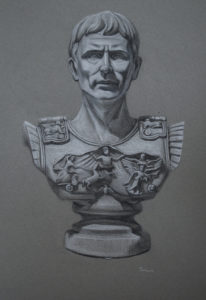 Dates and Times: 
Dates: March 1, 8, and 15
Times: 10-2pm
Location: Grand Valley Artists: 1695 Service rd. NE Suite 106 Grand Rapids, MI, 49505
Cost: $150 for three sessions
Cast drawing is a time-honored tradition going back to the 19th century French academy and is still practiced today in ateliers around the world. The purpose is to recognize the light patterns and structure of the human form, with the benefit of an unmoving subject. The methods learned directly translate to drawing and painting the human figure.
Materials:
Charcoal pencils

2H, HB, 4B, 6B (2 each)
Charcoal powder
Black pastel pencil (2)
White charcoal pencil (2)
White Pastel Pencil (2)
Black Pan pastel

http://www.dickblick.com/items/21934-2020/

Paper

Canson Grey toned paper (2)
White paper 18×24
Additional supplies

Kneaded eraser
White eraser (block form and in a click pen)
Exact-o knife for sharpening
Sighting stick

Should be around 10 inches long, and very light weight. I use a wooden BBQ skewer)

Triangular makeup applicators

These can be purchased at CVS, Meijer, or Target.

1 inch rectangular brush, something inexpensive.
A shallow dish approximately 4-5 inches in diameter.
Cut up strips of an old shirt.
Board for clipping paper.