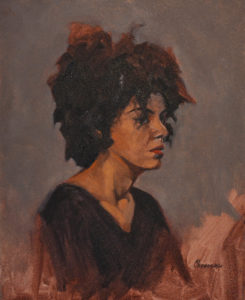 Dates and Times:
February: 3rd, 10th, 17th, 24th from 9:30am-12:00pm
Location: Holland Area Arts Council:  150 E 8th Street Holland, MI 49423
Cost: $180/$185 Members/Non-Members
 Register through the Holland Area Arts Council website:
Alla Prima painting, or wet into wet, is a stimulating method which teaches you to be present in every brush stroke, focusing on only the essentials. This workshop will instruct students on painting the model from life. The workshop will concentrate on color, value, proportion, and composition.
Materials:
Oil paint:
Do NOT get any "hues" when buying cadmium colors. Hues have a lower color saturation. You will end up using more paint and not saving any money. Titanium white (large tube)
Cadmium Yellow Medium pure
Cadmium Orange Medium pure
Cadmium Red Medium pure
Alizarin Red or Alizarin Permanent
Sap Green
Ultramarine blue
Dioxide Purple
Burnt Umber
Nickel Titanate Yellow
Sennelier brand: Brown Pink
Williamsburg: Kings Blue
Brushes:
Blick has an affordable and good quality line of brushes. You can also look at Trekkel and Rosemary Brush Co. these are both high quality brush companies. These are brush suggestions. You can never have enough variety, so bring what you have.
Bristle

Filbert #3
Filbert #1
Flat #6
Round # 4
Flat #16
Round #12

Sable

Thick fan brush size 6 or larger
Flat #4
Flat #6

Squirrel

Blick Brand natural round 4, 6, 8
Panels
I strongly recommend applying 2-3 additional layers of gesso on before the start of the workshop, even if the surface comes pre-gessoed. I apply gesso with a paint roller and do a light sanding between layers.
Other supplies:
Palette: Glass palette with a paint saver blue and white box works great for easy travel.
Solvent: Odorless mineral spirits (I prefer Gamsol) and a metal tin with a lid for cleaning brushes
Medium: Linseed oil in a small container with a lid
Palette Knife
Paper Towels (I like blue shop towels)
View finder (optional but useful)